Covid-19 and St Alban's Church
Due to the Covid-19 pandemic, the church was closed for public worship and to all visitors from 19th March to 19th July 2020. Building work to renew the church roof and provide improved step-free access to the building was also halted from 24th March to 1st June.
We are now able to open the church for a simple, socially-distanced Mass at 10:00 a.m. on Sunday mornings, at which we are taking special measures to minimise the risk of spreading Covid-19 between worshippers.
Our risk assessment has limited the number of people in the church at one time to thirty, so if you plan to attend on Sunday we recommend that you contact Fr Gerry no later than Saturday to make sure that there will be room for you.
We have rearranged the seating to provide well-spaced rows for individual family or household groups or bubbles.
All visitors are required to sanitise their hands on entering the building using alcoholic gel, which we provide.
Wearing a face covering in church is a legal requirement since the 8th of August.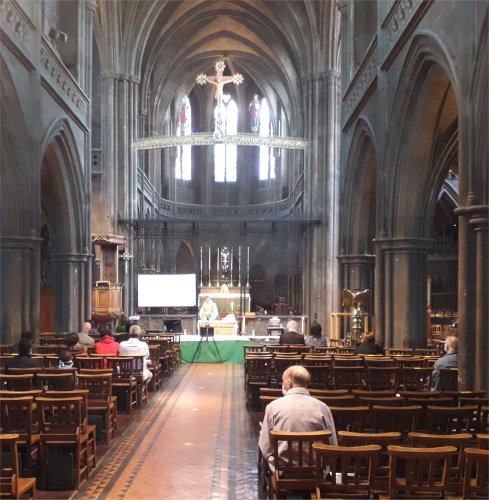 Due to the building works we are using the west door to the church, which is up steps from Stanhope Street, as the entrance visitors. If you need step-free access, please let Fr Gerry know (for Sunday 23rd August and Sunday 30th August contact Chris Smith as Fr Gerry will be away) so that we can arrange for you to use the 'cloister' entrance, which is currently being modified to make an improved step-free access to the church.
We ask visitors to go directly to a vacant row of seats and to remain there throughout the service apart from receiving communion or, if necessary visiting, the toilets. Each row of seating has a form, which we ask visitors to complete with their contact details. We keep these forms securely for 21 days so that we can contact visitors if anyone else who was in church at the same time notifies us that they have developed symptoms of Covid-19. After this period we destroy the forms.
As part of our precautions there is no singing of hymns and no choir; instead, when possible, we are using music recorded by members of our choir or others.
We are not providing service booklets or notice sheets to the congregation; instead we are projecting the text of the readings and prayers on a screen at the front of the nave.
At the Peace we remain in our places, turning to greet those outside our own group by an appropriate gesture.
Commmunicants are encouraged to sanitise their hands again directly before receiving a consecrated wafer in their hands, which will have been touched only by the priest, with freshly sanitiesed hands.
The toilets are available, if needed, but we are not be providing refreshments after the service or using the hall or church for a social gathering before or after the service. We ask the congregation to leave at the end of the service respecting social distancing from others.
We hope to stream the service live through Zoom for the members of our congregation who are unable to attend (for an invitation link please contact Fr Gerry).
While the church has been closed Fr Gerry has made weekly videos of services and placed them on YouTube and will continue to post videos of the Sunday services. You can find the videos here: Service Videos.
We do not plan to resume weekday services at this time, nor are we able to restart our programme of open days when the church is open outside service times for heritage visits.
---
Although the general infection rate has declined throughout the United Kingdom, the virus has not gone away and will not do so until a large proportion of the the world's population have received an effective vaccine.
Please continue to protect others and yourself by:
washing your hands frequently and thoroughly with soap and water or sanitising them with gel containing at least 60% ethanol or 70% isopropanol;
where possible maintaining 2m social distancing from others who are not part of your household or social bubble;
wearing a face covering or mask in indoor spaces that are also used (not necessarily simultaneously) by others who are not part of your household or social bubble.
A Prayer for the Covid-19 Pandemic, from the Church of England:
Keep us, good Lord,
under the shadow of your mercy
in this time of uncertainty and distress.
Sustain and support the anxious and fearful,
and lift up all who are brought low;
that we may rejoice in your comfort
knowing that nothing can separate us from your love
in Christ Jesus our Lord.
Amen.
Further prayers from the Church of England for the Viral Pandemic here.