The 'Temporary' Mission Church of St Alban the Martyr
---
This page is part of our project "Revealing St Alban's Hidden Heritage" supported by a grant from The National Lottery Heritage Fund, thanks to players of The National Lottery.

---
The first 'Temporary' church of St Alban the Martyr was a small brick chapol built in 1865 in Leopold Street to hold 250 worshippers.
It was built to serve the local neighbourhood, then known as "Vaughton's Hole" where cheap housing was being erected on the edge of Birmingham and where there were no schools or churches, and little sanitation. The priest in charge of the Mission, the Revd James Pollock, had wanted a larger temporary building which could accommodate as many people as possible.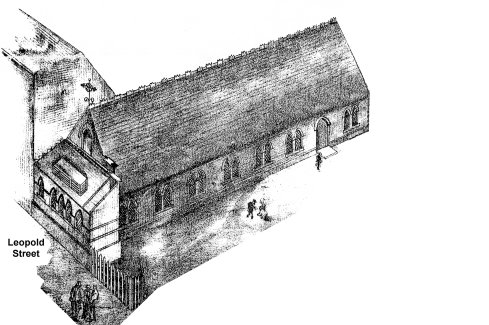 The Temporary Church as Built
The congregation soon grew, and in 1867 the building was extended at the west end to accommodate 450 worshippers. The new section doubled as a school room during the week.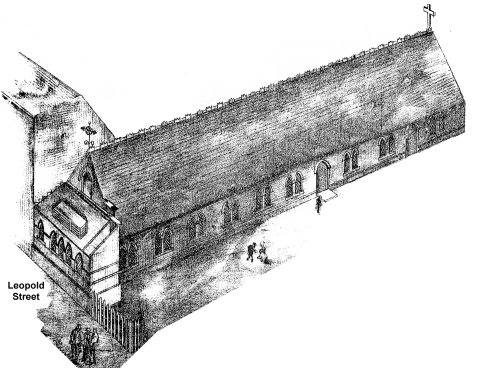 The Temporary Church as Extended.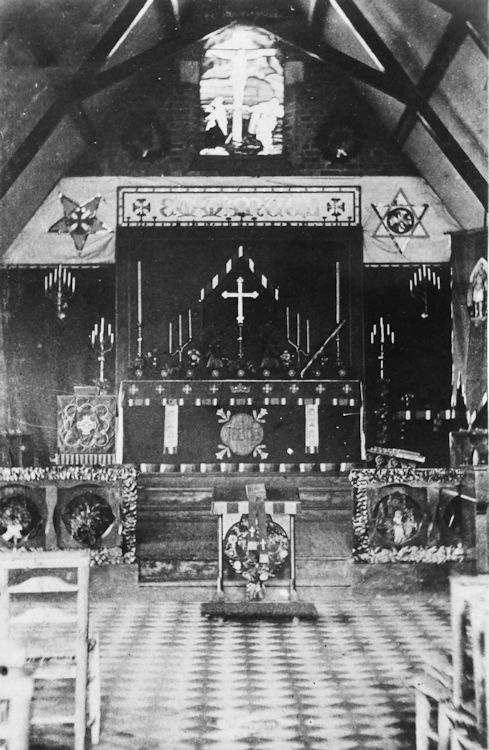 Harvest Festival 1867 in the Temporary Mission Church.
The population of Highgate and the number attending the church continued to grow and plans to create an independent District that could then become a Parish were advanced.
An Abortive Plan for a Permanent Church
In October, 1866, work began on the nave and aisles of a new 'permanent' Church to hold 500 on the corner of Leopold Street and Dymoke Street, beside the 'temporary' Church at a planned cost of £2,222. Designed by local Architect John Davis, if completed this church would have held 640 and had a tower at the west end. However, when the foundations had been laid, and the walls had been built four or five feet above the floor level, work was suspended, as news was received that the Aston Trustees had managed to block the current scheme for the formation of St Alban's District. Without the formal District, independent of the District of Holy Trinity, Bordesley, the mission had no secure future as the Aston Trustees would in due course be able to appoint a Low-Church priest at Holy Trinity, who would then close the High-Church mission.
Building recommenced in 1870, once the creation of the District was certain, but to a cheaper design, again by architect John Davis, with new foundations. When the first 'permanent' church opened in 1871 the 'temporary' church was partitioned to provide separate school rooms for boys and girls.
Continue to learn about the first 'permanent' Church here: http://www.saintalban.co.uk/history/St-Albans-Church/Second-Church/.