The Bunce Reredos
St Patrick's Chapel is home to a magnificent reredos made by Kate Bunce and her sister Myra. Plaques on the reverse of the right-hand panel reveal that it was given in memory of their father John Thackery Bunce (1828 – 1899; for many years the influential editor of the Birmingham Post), their mother Rebecca Ann (1824 – 1891; née Cheesewright), their sister Edith Ann Bunce (1850 – 1878) and Myra Louisa Bunce herself (1854 – 1918) who died in before it was installed.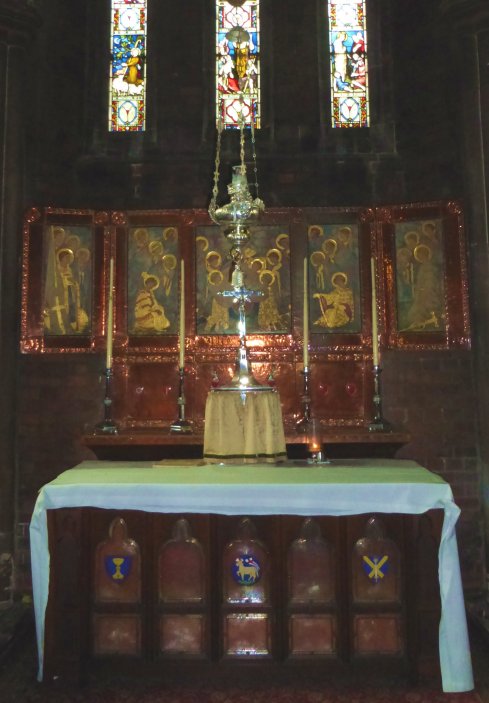 The reredos consists of five tempora panels painted by Kate Bunce in a hand-beaten copper tryptich frame. The central panel, depicting the infant Jesus cradled by the wings of angels before the kneeling figure of Mary is flanked by two panels of adoring angels, while the outer panels depict St Patrick and St Alban. The central three panels include realistic images of many different birds.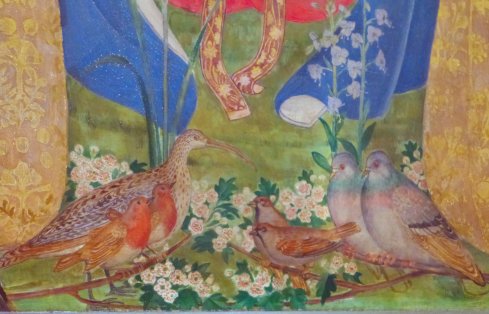 The copper surround, made by Myra Bunce has a border of shamrock pattern and roundels including emblems of the four evangelists and of Christ.
A Birmingham Civic Society Blue Plaque fixed to the tower by the Conybere entrance commemorates Kate Bunce.