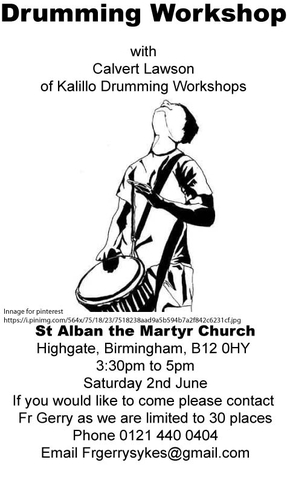 Dear all,
Pentecost, the coming of the Holy Spirit, is the birthday of the church. It marks the time when God came to live in God's people's hearts and gave Jesus' followers the knowledge and power to find the direction they should travel. Like the beginning of Advent it marks the start of a new journey for the church.
The idea of travel and journey is very much on my mind after our Pilgrimage to Walsingham at the beginning of May. Noah remarked that it was like (his idea of) the holy land because everything was about God. Enfys was struck by the peace and serenity of the place. I found our pilgrimage helped me to come to God in a new way. It was like a retreat but also different. We can't stay in the high place of Walsingham all the time, just like Peter, James and John couldn't stay on the mountaintop when Jesus was transfigured, or like the disciples at The Ascension. The Angel says to us '… why do you stand looking up towards heaven? This Jesus, who has been taken up from you into heaven, will come in the same way as you saw him go into heaven.' ((Acts 1:11) We have to take the experience of Easter, Walsingham, the Ascension and Pentecost and bring them into our daily lives.
Thinking of bringing that experience into our daily lives and worship, we have decided to run a drumming workshop to enliven our Saturday evening Family Mass. If the young people of our church enjoy the workshop we will get some African drums to use on Saturday evening on a regular basis. Of course this is not going to change Sunday, which will continue to be a traditional sung mass. However, I am struck by the fact that several people have mentioned that we used to have two masses on Sunday, a Parish Mass followed by a Choral Mass. I get the impression that a few people miss being able to sing the mass setting. Just for an experiment I hope that we can try an occasional Sung Mass setting that all the congregation can join in. A Sung Mass that Wakefield Cathedral used for big events includes the Coventry Gloria which was written by Peter Jones for the Pope's visit to Coventry. It has parts for the Choir and responses for the congregation. Combined with the Taize Kyrie (which they use at Walsingham) and the plainsong Missa de Angelis this might make a suitable setting that we can all join in (for occasional use). If we don't like it, I will have a further think.
I would also like to commend our Sunday evening services to everyone. If you feel that you need a time of quiet reflection this could be a service that you would find very helpful. We have a short liturgy with a lot of time for meditation followed by Exposition of the Blessed Sacrament. If you prefer a more formal evening service, we also have our occasional Choral Evensongs sung by visiting choirs.
Traditional Anglo-Catholic Choral Sung Mass and low masses will continue to be the bedrock of St Alban the Martyr. Please pray for the success of our other services to ensure the future of Anglo-Catholic Worship in Highgate. Let's make ourselves the Anglo-Catholic Cathedral of Birmingham.
Fr Gerry