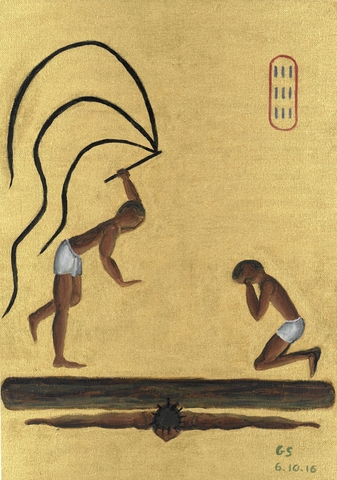 Dear All,
Two years ago the Archdeacon of Pontefract, Peter Townley, suggested that I paint my own version of Stations of the cross, particularly the ninth station, Jesus falls for a third time. This was indeed the first station that I painted (above) . As I worked on this station I noticed that thre was a hint on papyrus and a slightly Egyptian look about the painting, which I then took up and emphasised. . In my ninth station Jesus lies flat in the dirt, he can hasn't got the strength to go on any more, yet the soldier is still whipping him, trying to force his exhausted body to go farther. The station symbolizes the times when we are at rock bottom, worn out, maybe depressed, an unable to carry on. Other's make unhelpful demands that we 'pull up our sock's and 'soldier on' but the heavy weight of our burdens is too much.
Alleluia Christ is risen. He is risen indeed. Alleluia.
My stations do not end in despair. I took the option of adding a 15th station the resurrection, and I took the breaking of bread at Emmaus as my theme (below). Jesus is facing us, he breaks the bread and hold up his hands in victory, the serpent is trod underfoot and the shepherd's cross rests on the chair. We are invited to turn to Jesus like the two disciples, and to worship him. As our hearts burn within us at the glory of the story, let us tell others as the two disciples did.