At 12:30 on Friday 28th April our parish group of 21 pilgrims set out for the 150 mile journey to the Anglican Shrine of Our Lady of Walsingham after an Itinerary Mass to see us safely on our way. This year, thanks to donations from members of our congregation, we were able to take many of the older children from our Sunday Club and to hire a coach to take most of our pilgrims.
As we are in interregnum, our pilgrimage was led jointly by our two churchwardens, Fay Wilson and Chris Smith, with Sunday Club Leader Leona Bramble and Fay's husband Rainer assisting in looking after the children.
On Saturday morning, after an 8:15 a.m. Mass for the sick of our parish followed by breakfast, most members of our group were able to walk the mile to the Slipper Chapel and Roman Catholic Shrine, where Rachel Smith took a photograph of those of our group that we could gather ...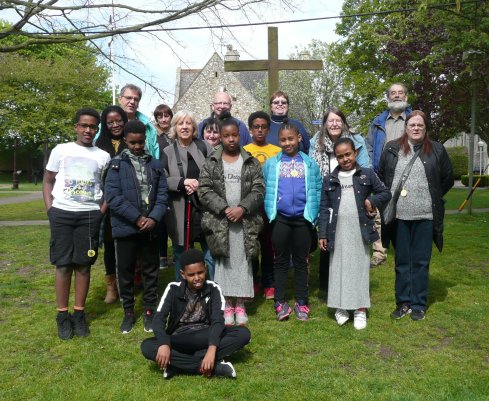 ... and the girls took their own selfie ...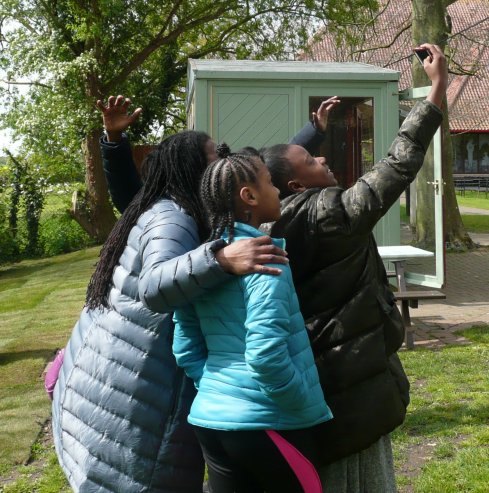 After walking back to the Anglican Shrine for lunch, the Sunday Club and others took a bus trip to the seaside at Wells-next-the-Sea, returning in time for the Weekend Pilgrimage Mass. After Supper we all took part in the procession round the shrine grounds. Four of our Sunday Club members carrying large torches to escort the stature of Our Lady, while the rest of us carried smaller candles.
On Sunday after breakfast we performed the Stations of the Cross in the shrine grounds. We drew lots to decide who would read at each station - including the young people, who all did very well. Then we walked to the Parish Church for 11:00 a.m. Sunday Mass. After lunch the Sunday Club visited the Abbey Grounds, with Rachel Smith, where they saw the ruins and walked through the woods. No one fell in the river Stiffkey!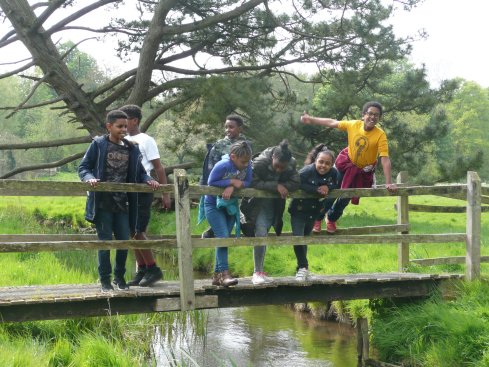 Returning to the Shrine Church for Sprinkling at 2:30 p.m. we tasted water from the Well. After a procession of the Blessed Sacrament round the shrine grounds followed by Benediction, we made our Last Visit to the Holy House. Our coach set out for Birmingham at 5:30 p.m., arriving safely in Highgate by 9:00 p.m. having stopped for supper on the way.
We thank God for the grace of a happy pilgrimage.