Welcome ...
... to the website of the church of Saint Alban the Martyr — the Church of England parish church for all the people of Highgate, Birmingham.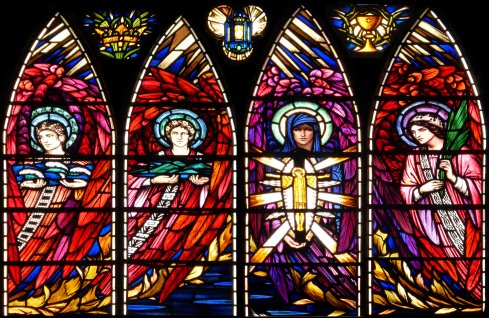 Church Open for Public Worship
St Alban's Church is currently open for socially distanced public worship at 10:00 A.M. every Sudnay, under striclty controlled conditions.
Despite the falling rate of infection and the progress in vaccination of the groups most at risk from Covid-19, the level of infection in the West Midlands remains high, and we have added further precautions to our risk assessment, including the need for those wishing to attend in person to book in advance to ensure that the congregation does not exceed the number who can be safely accommodated in socially distanced seating. Fuller details of the precautions you must follow in the church can be found here: http://www.saintalban.co.uk/covid/.
To book a place please e-mail info@saintalban.co.uk or phone Fr Gerry on 0121 440 0404.
The capacity of the church for a socially distanced congregation is limited and some of our regular congregation will be unable or unwilling to attend in person, so Fr Gerry will continue to stream our Sunday service over Zoom for members of the congregation (for an invitation link please contact Fr Gerry).
The Vicar and Churchwardens urge those members of the congregation who are elderly or have health conditions to continue to follow the service remotely if able to do so and to postpone a return to attending in person until three weeks after they have received their second vaccination, levels of infection have, we hope, fallen further and the weather is warmer.
You can find videos of our Sunday services here: Service Videos.
Act of Spiritual Communion
If circumstances make the bodily reception of Communion impossible, one may wish to make use of a prayer of Spiritual Communion such as the following prayer of St Alphonsus Liguori:
My Jesus, I believe that you are present in the Most Blessed Sacrament.
I love you above all things,
and I desire to receive you into my soul.
Since I cannot now receive you sacramentally,
come at least spiritually into my heart.
I embrace you as if you were already there,
and I unite myself wholly to you.
Never permit me to be separated from you.
Amen.
Fr Gerry has also made some videos of interfaith meditaions for Ark St Alban's Academy. You can find these meditations here: Interfaith Videos.
A Prayer for the Covid-19 Pandemic, from the Church of England:
Keep us, good Lord,
under the shadow of your mercy
in this time of uncertainty and distress.
Sustain and support the anxious and fearful,
and lift up all who are brought low;
that we may rejoice in your comfort
knowing that nothing can separate us from your love
in Christ Jesus our Lord.
Amen.
Further prayers here: for the Viral Pandemic from the Church of England.
Visitors since 11 June 2015
Visits since 11 June 2015


Find us on Facebook