Nine Lessons and Carols
15 Dec 2019 3:30PM — 6:00PM
Service of Nine Lessons and Carols
Birmingham Bach Choir
Conductor: Paul Spicer
Organist: Paul Carr
An unmissable opportunity to experience this traditional service in one of the city's finest Victorian Gothic buildings. You'll hear old favourites and new settings of Christmas music sung by Birmingham Bach Choir in the fine acoustic of St Alban's Church.
All are welcome. Admission Free. Retiring collection for the upkeep of the church.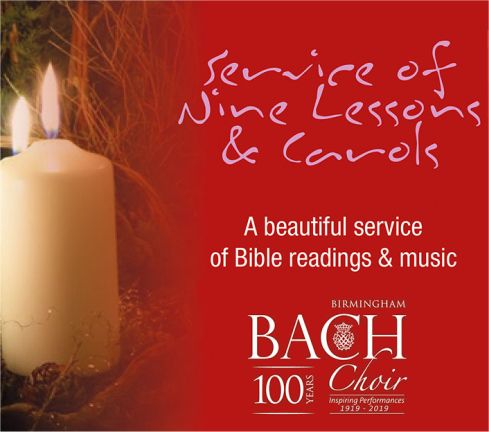 Programme of Music:

O Come all ye faithful*
A child is born in Bethlehem (Scheidt)
O Magnum Mysterium (Victoria)
O little town of Bethlehem *
A babe is born (Peter Racine Fricker)
I saw three ships (arr. Lloyd)
The Bee Carol** (David Hughes)
Lo, he comes *
Dormi Jesu (Rutter)
Now is the time of Christemas (Paul Spicer)
Hark a thrilling voice*
My Lord has come (Will Todd)
Once in royal David's City *
Magnificat Gloucester service (Howells)
Sans Day Carol (arr.Rutter)
Of the Father's Heart ( arr. Willcocks)
Hark the herald angels sing *

*arr by Paul Spicer
** David Hughes was a finalist with this carol on BBC Radio 3 2018 Carol competition.
Back to events