On long-term loan since 2015 from a family living on the South Coast whose late father restored it. From the markings on the pipes, we belive it dates to the fist half of the nineteenth century.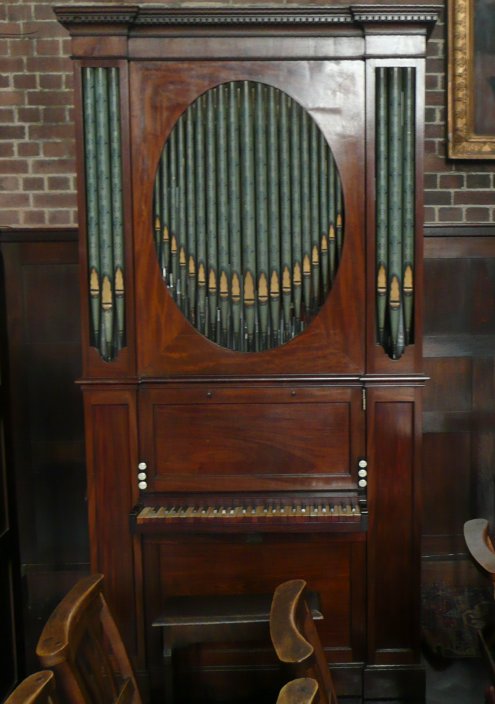 For most of the time that organs have been used as an aid to the liturgy in the Church of England, it is this type of organ which has been employed — a single manual with no pedals. Such an organ is most useful for the authentic performance of much church music.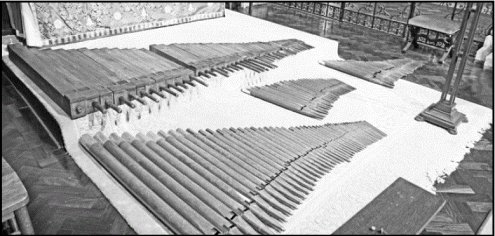 The instrument was transported to St Alban's in pieces and has been assembled in a corner of the Lady Chapel. It has been mounted on a substantial wheeled plinth to enable it to be moved safely to and from appropriate locations for use in concerts and recitals and for occasional liturgical use.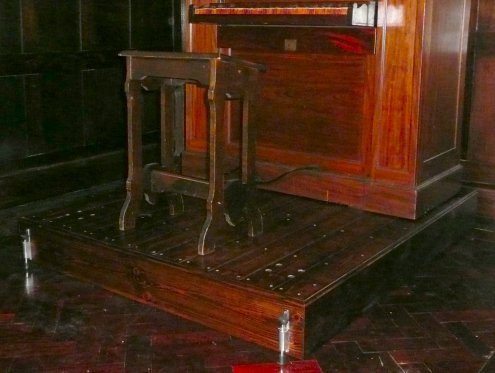 The chamber organ was first used publically to accompany the motet during Communion on Sunday 4th October 2015.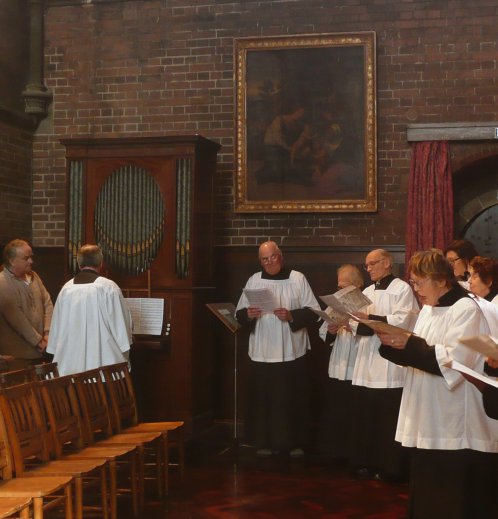 Details of the Chamber Organ
Compass: C, D (no C #) – e3
Divided at (middle) c 1/c1#
Bass Side
Fifteenth
(2')
Bass
Stop Diapason
(8')
Bass
Principal
(4')
(Full compass)
Treble Side
Fifteenth
(2')
Treeble (sic)
Open Diapason
(8')
Treble
Stop Diapason
(8')
Treble)
Mechanical stop and key action
Retractable Keyboard
Blowing by Assistant (handle at side, Bass end) or Player (central pedal, at front)
Shifting movement, silencing all but the Diapasons, by pedal (front, Bass end)
---
In the course of his work our regular organ tuner, Paul Daly, has spotted a very similar instrument that although heavily retored retains a maker's plate: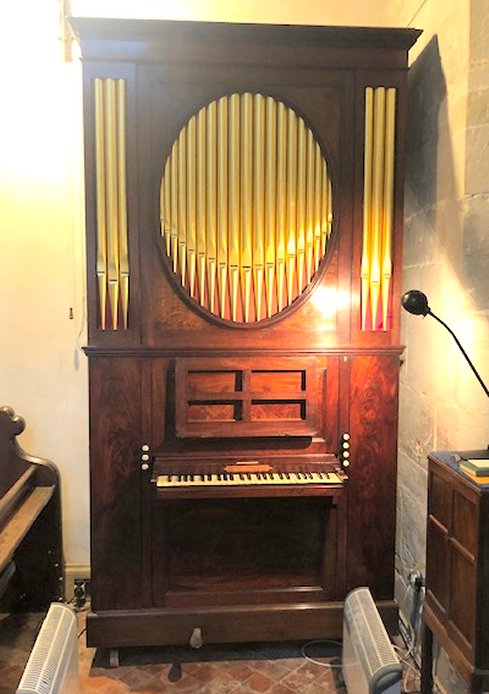 A Close Match for the Chamber Organ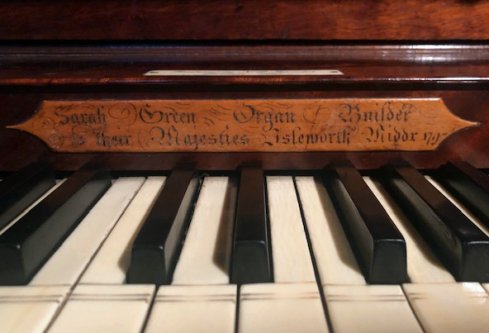 The Maker's Plate of the Similar Chamber Organ

The plate reads "Sarah Green Organ Builder to Their Majesties Isleworth Middx 179?". Sarah Green was the widow of Samuel Green who died on the 14th of September 1796 leaving everything to her. According to the Dictionary of National Biography, Samuel Green "built a large number of organs for the cathedrals, and for churches in London and the country, instruments which were famed for their beauty of tone." Sarah was the daughter of Eardley Norton, a maker of musical and astronomical clocks and she carried on the business with Benjamin Blyth the former foreman. (Information from "The Mysterious Pyke, Organ Builder" by Donovan Dawe in The Musical Times Vol. 115, No. 1571 (Jan., 1974), pp. 68-70.) Sarah died in 1816.
Another similar chamber instrument by Samuel Green is housed in the Metropolitan Museum of Art, New York: https://www.metmuseum.org/art/collection/search/503447.
---