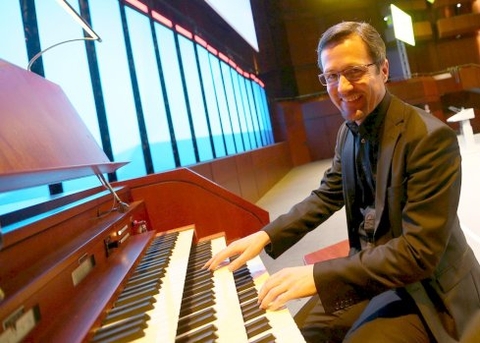 Organ Recital by Frank Oidtmann
13 Oct 2018 7:30PM — 9:00PM
Programme:
Georg Muffat (1653 – 1704)
From "Apparatus musico-organisticus"
Toccata X in D
Gerard Bunk (1888 – 1958)
Einleitung, Variationen und Fuge über ein Altniederländisches Volkslied, op. 31
(Introduction, Variations and Fugue on an old Dutch folk song)
Johann Sebastian Bach (1685 - 1750)
Chorale Prelude "Schmücke dich, o liebe Seele", BWV 654
Johann Christian Heinrich Rinck (1770-1846)
"Freu dich sehr, o meine Seele" (Chorale and Variations)
Otto Dienel (1839-1905)
From the 3rd Organ Sonata in F major, op. 18
with Chorale "Wie groß ist des Allmächt'gen Güte"
- Pastorale Moderato
- Allegro
Frank Oidtmann began his organ studies as junior student at the Conservatory in Würzburg. He completed his studies in Stuttgart with Ludger Lohmann, Jon Laukvik and Bernhard Haas and participated in numerous master classes after graduation. Frank was working as church musician in Stuttgart where he also took on duties as a harpsichordist in the Staatsorchester Stuttgart, as an organist at the Eclat Festival and as a conductor at the Junge Oper of the Staatstheater Stuttgart. He has a busy concert career as organ recitalist and piano accompanist, his CD recordings have been published by Animato and Antes. Further recordings were made in the protestant Church district Esslingen, where he was active from 2002 to 2015 as a district musician. In this context the performance of Bach's organ work in its entirety in 13 churches of the district within a church year and the conception of a psalm music year are noteworthy. Frank directs oratorical standard works as well as rarely performed works such as "The light in the wilderness" by Dave Brubeck, the comic opera "Adam and Eve's Creation" by Meingosus Gaelle, Mozart's first opera "The Duty of the First Commandment" or the church opera "Tobias and the angel" by the contemporary British composer Jonathan Dove. In June 2015 he was appointed Music Director of the Protestant/Evang. Stift Tübingen, where he now performs the piano work of J. S. Bach in its entirety.
Frank Oidtmann will also beplaying the lunch concert in Birmingham cathedral at 1.10 pm on Monday 15th Ocotober.
Back to events