The Pulpit
---
This page is part of our project "Revealing St Alban's Hidden Heritage" supported by a grant from The National Lottery Heritage Fund, thanks to players of The National Lottery.

---
The Pulpit is a raised stand for preachers, usually raised well above the surroundings for audibility and visibility; it is similar in function to the minbar of a mosque.
Ours is traditionally placed to the left (north) of the chancel arch.
The Present Pulpit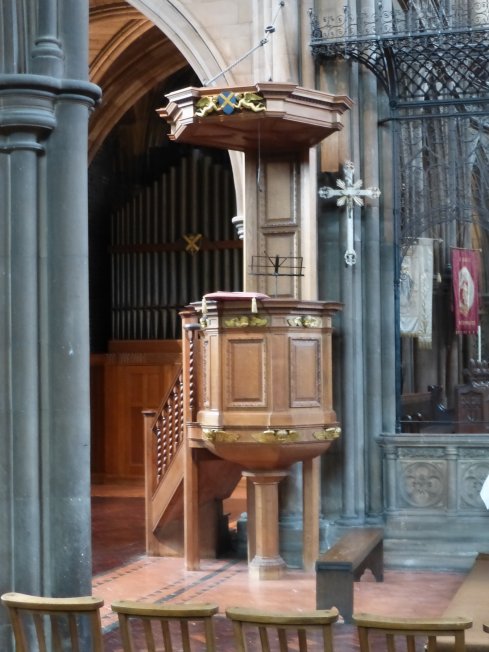 The present dignified oak pulpit, designed in Georgian style by Milner and Craze and executed by A Robinson of Kingston on Thames, dates only from 1957. It is the third to stand in the church.
The First Pulpit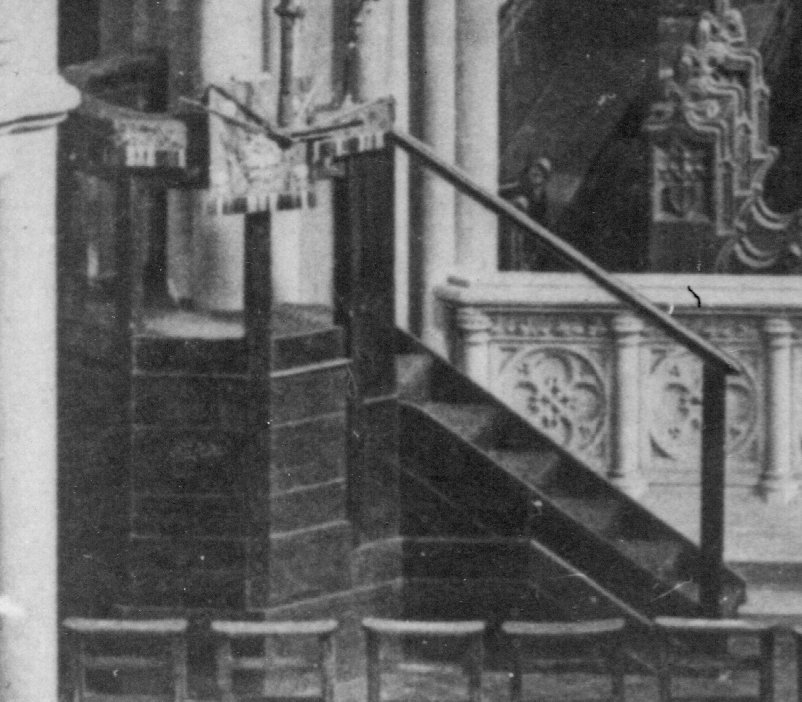 The first pulpit, seen in a picture from 1897 or earlier was entered from its south side by steps in front of the low stone chancel screen. It had a very solid-looking base with sturdy horizontal planks, and was perhaps the work of a joiner rather than a furniture maker. It had been made for the first temporary St Alban's Mission Church on Leopold Street in 1865 and moved first in 1871 to the second church on the corner of Leopold Street and Dymoke Street and in 1881 to the present church. It was from this pulpit that our founders the Revd James Pollock and his brother Revd Tom Pollock preached. There was no sounding board above this first pulpit and with the church full it must have taken some effort to project the voice so that all could hear. The outline of the base of this pulpit can still be seen as a difference in the colour of the tiles below the present pulpit.
The Arts and Crafts Dixon Pulpit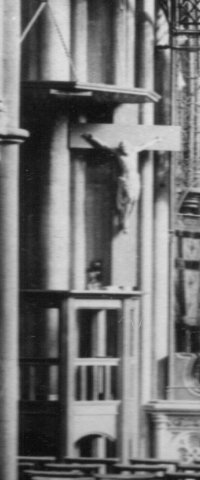 In 1907 Arthur Stansfield Dixon, an architect by profession, founder of the Birmingham Guild of Handicraft and one of the churchwardens, designed a new pulpit in Arts & Crafts style. This pulpit had a more graceful base with open arches between the timber uprights and an open-sided top. It was entered by steps from the north-east, like the present pulpit. It was, said the Revd. Alfred Cecil Scott (vicar from 1900 to 1910) "beautiful in itself and most suitable to the church" and, so far as we know, the next three vicars were satisfied with its appearance. However, Canon Lawrence Harding (vicar from 1953 to 1981), did not favour the Arts & Crafts style, which was out of fashion in the 1950s. He wrote that it resembled a cattle pen and in 1957 he obtained a faculty (permission from the diocesan church authorities) to replace it with the present pulpit, which was paid for with part of a legacy from James Frederick Deeming who had died in 1953 who had also wanted to replace Dixon's pulpit, although he had favoured stone rather than wood.