The Statues
When the church opened in 1881 the interior was very bare and there were no statues of the saints.
Our oldest statue is that of the Blessed Virgin Mary holding the infant Jesus, which stands by the entrance to the the Lady Chapel in the North Transept.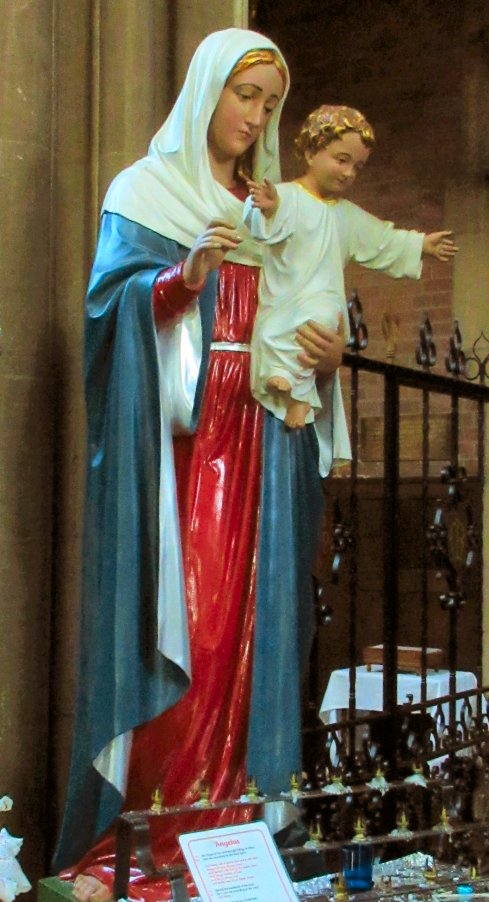 (Temporary picture)
This statue was given by 'Rosie' – Fr George David Rosenthal – when he was a curate at St Alban's from 1906 to 1913. (He is better known as vicar of St Agatha's, Sparkbrook from 1918 until 1938.)
At present we do not know the exact year in which he gave it, but it is to be seen in a photograph taken no later than December 1912, which was used on the cover of S. Alban's Magazine from January 1913.
The statue was paid for from the proceeds of a dancing class Fr Rosenthal ran for the young people of the parish, charging 2d a night (two old pence – less than 1p – but with a purchasing power in 1913 near to that of £1 in 2020).
Supplied by the Art and Book Company of Westminster, the staue is carved in oak. It has been repainted several times, Mary's cloak acquiring 12 stars and a moon in 1957, but losing them again in 2009.
---
Our next statue is that of St Alban.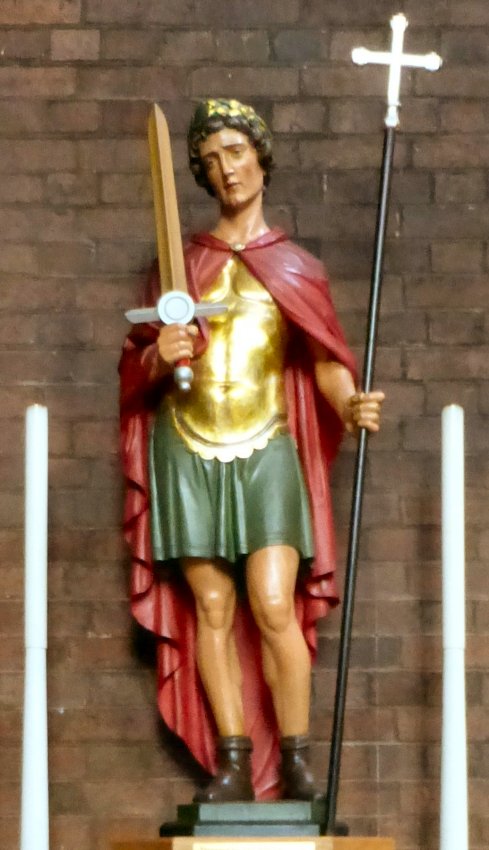 (Temporary picture)

This statue was promised in July 1916 by L. C. Bailey and placed in the church in February 1917. Like the statue of our Lady this statue if of painted carved oak and was supplied by the Art and Book Company of Westminster.
This statue has stood in different places in the church – at the east end of the south aisle and at the south side of the chancel arch – before its present home in the east corner of the south transept beside St Alban's Altar.
The light oak bracket on which it now stands bears the slightly misleading inscription "Donated by The Aspinall Trust in Memory or Eric and Kathleen". This refers to the bracket itself provided in 2003. A small plaque, currently detached from the statue, bears the inscription "To the Glory of God This Statue was given by L. C. Bailey as a Thank-offering, for 12 Years of Catholic Privilege, in St. Alban's Church."
---
The statue of St Patrick in St Patrick's Chapel was originally in the Church of St Patrick in Frank Street.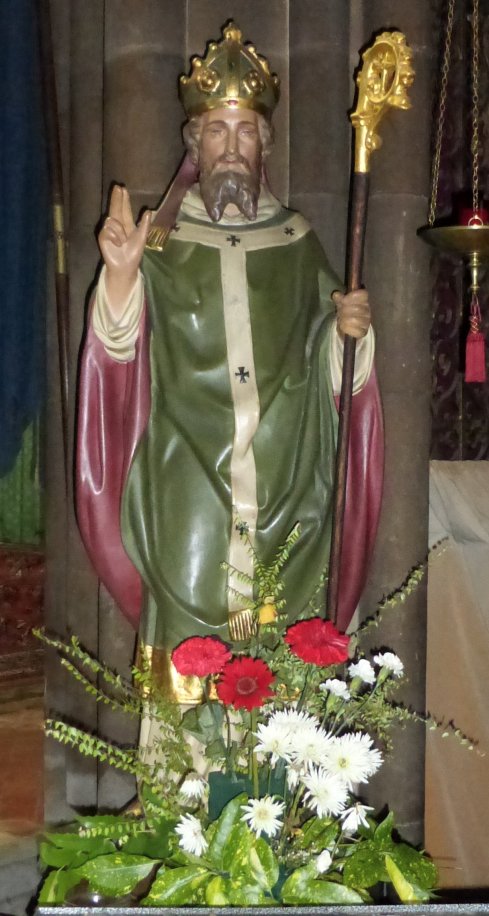 (Temporary picture)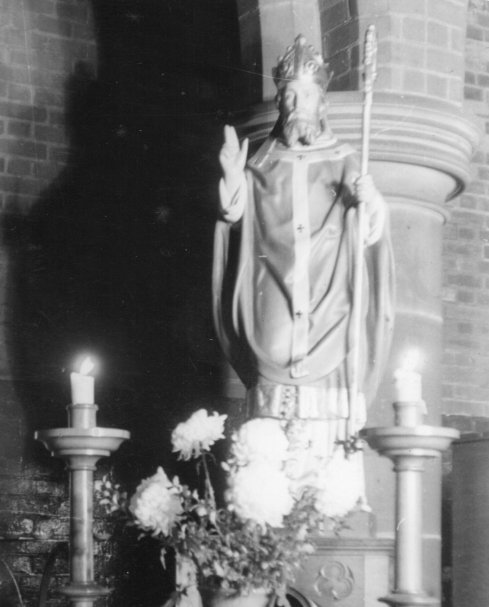 The statue of St Patrick in St Patrick's Frank Street
When St Partick's closed in 1964, the statue was transferred to St Patrick's School on Highgate Street and when the school closed the statue was placed in this church.
The statue dates to 1921 and was given by the children of "The Greater Catechism" who raised funds over several years. We do not know who made it.
---
To be continued...
---
This page is part of our project "Revealing St Alban's Hidden Heritage" supported by The National Lottery Heritage Fund.