World War II
---
This page is part of our project "Revealing St Alban's Hidden Heritage" supported by a grant from The National Lottery Heritage Fund, thanks to players of The National Lottery.

---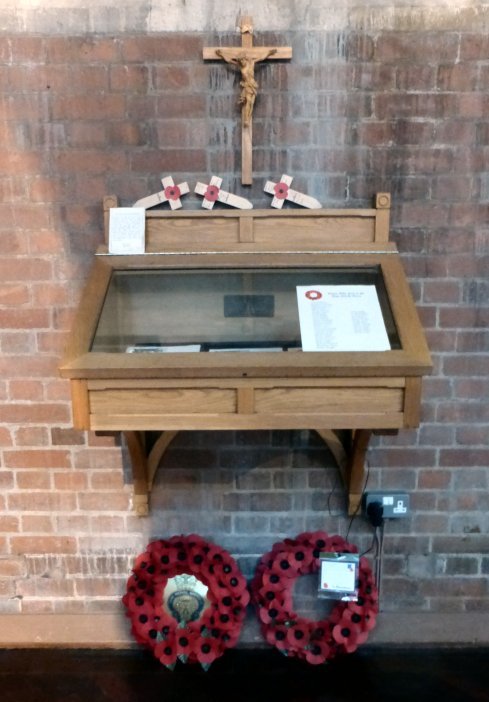 Remembrance Day 2020
We have the following list, believed to be of those members of the armed forces from the congregation of St Alban's who fell in the Second World War:
Leslie Ainge
Frederick Glass
Stanley Hart
Bert Osborne
Arthur Powles
Ralph Reece
Frank Thomas
Horace Ward
Ernest Webb
George Wilson
Harry Yates
We have at present no list of civilians killed by bombing in the parishes of St Alban and St Patrick.
St Patrick's Church was damaged by incendiary bombs in August 1940, when the organ was destroyed and the choir stalls damaged, and S. Alban's Magazine for November 1940 records: "In the recent raids a mission house in a certain Midlands town was damaged by incendiaries." But wartime censorship means that there is remarkably little record of the war in surviving parish records. In S. Alban's Magazine for January 1941 Fr Dudley Clark wrote: "I keep on having warnings sent to me as to what I must not write about, in many ways it is a trial to be muzzled, because the parish magazine is the only sort of record of events that future generations will have. The magazines are bound together and form some sort of history of the place. In years to come our successors may find it difficult to understand why certain side of parochial life seem to be at a standstill for a long period …"
We know from acknowledgements in the archive that on the 7th of December 1940 Fr Clark reported damage to the Church and Mission Room and on 12th of December 1940 he reported damage to the Day Schools - but we have no record of what the damage was. It was certainly not so severe as that to St Patrick's Church nearby on Frank Street by incendiaries in August 1940.
We hope to add some pictures of bomb damage in the parish when permissions have been obtained.