The Stained Glass Windows
---
This page is part of our project "Revealing St Alban's Hidden Heritage" supported by a grant from The National Lottery Heritage Fund, thanks to players of The National Lottery.

---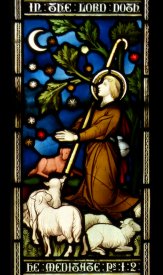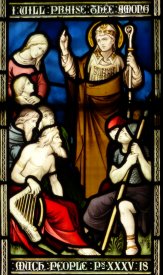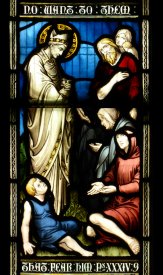 When the church opened in 1881 all the windows had plain glass. The windows in the chapels and in the ambulatory passage at the east end behind the High Altar were added between 1882 and 1896, the east window of the south chapel is by John Hardman & Co, and the others by the firm of Clayton and Bell.
In 1904 the central two-lancet window of the clerestory of the apse above the High Altar was filled with a window by Birmingham artist Henry Payne.
In 1909 a window by the firm of Morris & Co. was installed in the eastern lancet of the south aisle.
In 1927 windows by Sidney Meteyard were added on either side of the central stained glass window in the clerestory above the High Altar.
In 1953 coloured glass was added in geometric designs to the large rose window at the west end of the church above the balcony.
The most recent addition to the stained glass was in 1983, when two late Victorian windows from the former church of St Patrick, Frank Street were installed in the central and western lancets of the south aisle.