Children's Souls Received in Heaven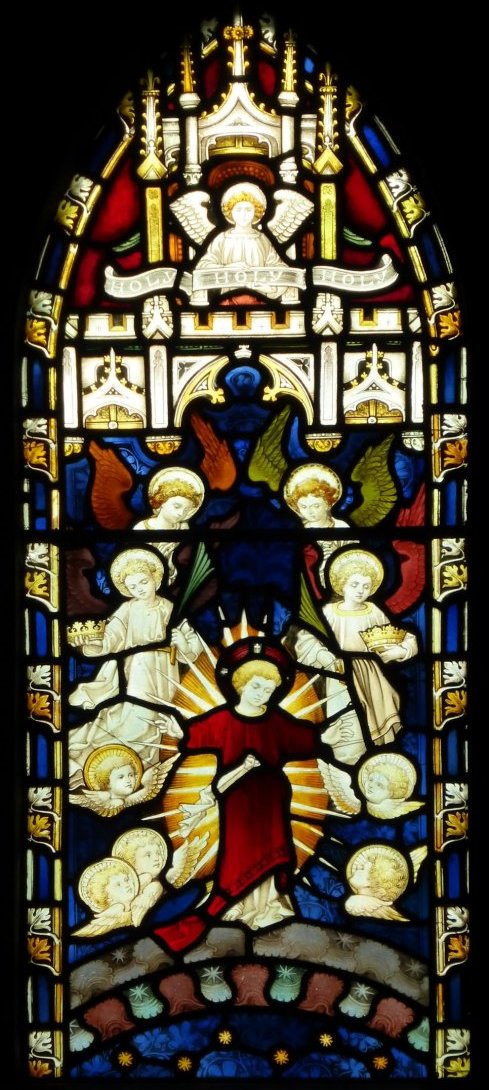 In this panel we see Jesus, in the form of a child, surrounded by angels bearing palms and crowns. He is welcoming the souls of five children, represented as winged heads, into heaven. These represent both the Holy Innocents - the children murdered by King Herod in an attempt to kill the infant Jesus - and the Pollock siblings who died as children in the Isle of Man of typhoid fever before James and Thomas were born.
The children who died in the Isle of Man were:
Mary Anne Pollock, 22 September 1823 - 6 October 1831
Jane Pollock, February 1822 - 17 November 1831
Catherine Jane Pollock, 7 May 1819 - 4 December 1831
Ellen Selina Pollock, 26 October 1828 - 5 December 1831
Thomas Cosby Pollock, 1816 - 12 January 1832
Could the two heads side by side at the botton left represent Catherine and Ellen, who died within a day and shared a funeral? And does the head at the bottom right look like a slightly older boy - Thomas?
If you started with this panel, look next at the panel below, where mother mourn their dead children, for more information about the Holy Innocents and the Pollock siblings.
If you have not already done so, look next at the upper left pannel, where Miriam watches as Pharaoh's daughter finds the infant Moses.
---
This page is part of our project "Revealing St Alban's Hidden Heritage" supported by The National Lottery Heritage Fund.