Hannah Gives Samuel to Serve in God's Temple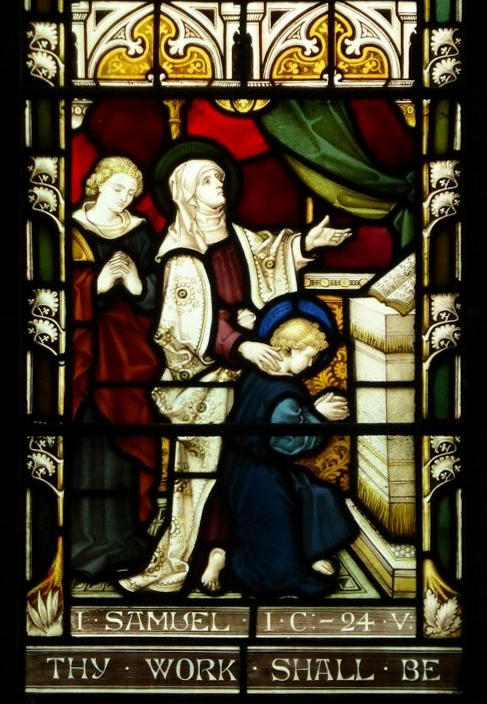 This panel depicts Samuel being handed over by his mother Hannah to serve in the Temple at Shiloh, in accordance with the vow that she had made that if she bore a son she would give him to the Lord as described in the First Book of Samuel. It is unclear who the younger figure behind Hannah is. Chapter 1 verse 24 quoted at the bottom of the panel reads: "And when she had weaned him, she took him up with her, with three bullocks, and one ephah of flour, and a bottle of wine, and brought him to the house of the Lord in Shiloh: and the child was young." Hannah named her son Samuel, which means "God heard", because she had prayed for him.
As well as including the name Hannah this panel mirrors another aspect of Pollock family history. Charlotte Ratcliff (who is commemorated with a plaque at the east end of the Lady Chapel) recorded this story about the parents of Anna, James and Thomas: "between one November & the following February five of their children died of typhoid fever. Prostrate with grief they both vowed to Almighty God if He should give them another child it should be given entirely to His service. The first child born after their vow was made, was Mr. James Pollock! He was named James Samuel Pollock. Samuel because he was to serve in the Temple."
Next look at the bottom panel of the central lancet which shows St Anne teaching her daughter Mary.
---
This page is part of our project "Revealing St Alban's Hidden Heritage" supported by The National Lottery Heritage Fund.