The Windows in the South Aisle
The Eastern window in the south aisle, by Morris & Co. was installed in 1909, the gift of John Downes and his Bible Class.
The two western windows in the south aisle are the most recent additions of stained glass to the church. They were the only stained glass windows in St Patrick's Church in Frank Street, where they were a memorial to the brothers James and Thomas Pollock. They were saved when St Patrick's was demolished and were installed in St Alban's in 1983 as a memorial to Canon Lawrence Harding, vicar from 1953 until his death in 1981. The modern surrounds of the historic central sections were executed by Tony Naylor, glazier, in collaboration with John Buchnall of the John Osborne Partnership.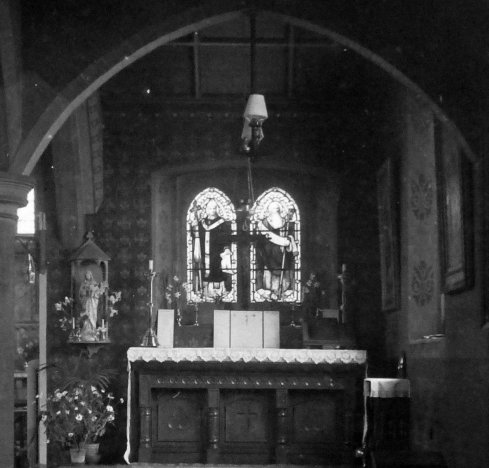 The Windows of St Thomas of Canterbury and St James of Nisbis in St Patrick's Church, Frank Street

The modern surrounds of these windows include a pair of plaques that should be read together: "This glass was dedicated to the memory of James and Thomas Pollock, Priests, in St. Patrick's Church, now demolished" and in the other window "Restoerd and re-sited here to commemorate Lawrence Goodrich Harding, Priest, Vicar of this Parish A.D. 1953-1981.".
There is conflicting evidence about the origin of these two windows at St Patrick's.
The Church Times for 18 November 1896, describing the opening of St Patrick's Church, writes: "Two of the windows have already been filled with stained glass by Mr. Kemp. They are given by the Vicar in memory of his brother the Rev. James Pollock, and their friend, Dean Butler, of Lincoln." Dean Butler was William John Butler 1818-1894. If one of these window was given in memory of William John Butler, why does it depict St Thomas of Canterbury rather than, for example, St William of York? The Birmingham Daily Gazette for 16 September 1905, in an article about Fr D'Arcy at St Patrick's says: "The chapels are dedicated to S. James and S. Thomas in memory respectively of the Brothers Pollock. Behind the last named chapel is a fine stained-glass window erected by an Edgbaston artist, who died soon after presenting it."
---
This page is part of our project "Revealing St Alban's Hidden Heritage" supported by The National Lottery Heritage Fund.